The operational need
The management of emergency and crisis situations in the mainline rail environment and in metro systems is highly complex. It requires coordination, collaboration, information sharing among the stakeholders of the infrastructure manager (IM) or railway undertaking (RU), the first responders (Police, Fire & Rescue Services, Emergency Medical Services) and external stakeholders (contractors, the media, municipalities, governmental entities and more).
In the general context of information management in incident response, we identify four main challenges:
Management and mitigation of foreseen risks – overseeing and assisting on-site security arrangements, preventing the escalation of risks to passengers, first responders and others, minimizing system shut-down time, and supporting quick incident recovery.
Collaboration and information sharing among responders – effective collaboration between internal and external stakeholders, receipt and analysis of the situational picture, and dissemination of reliable information to all stakeholders.
Definition of roles and responsibilities – a clear definition of the command & control arrangements between all the involved control centres and on-site responders.
Effective decision making – effective implementation of the emergency plan and emergency operating procedures in accordance with the organisation's best practices, effective debriefing capabilities, learning and drawing conclusions – for the purpose of improving the organisation's ability to cope with emergency and crisis situations.
 Incident and crisis management in a nutshell
Command & control of emergency incidents and crises takes place through three to four organisational structures, depending on the incident characteristics:
Strategic level of incident management (Gold) – strategic, off-site management of the incident, through the Operation Command & Control centre (OCC). Its roles are, among others: Strategic decision making, liaison with the Lead Person & external organisations, services, logistical support, welfare and coordination with the media.
Tactical level incident management (Silver) – tactical, on-site incident management, headed by the Lead Person, whose roles are among others: On-site decision making, coordination, safety, logistical support, resources & equipment, welfare & investigation.
Operational level (Bronze) – operational and technical entities, on- and off-site, whose roles are, among others: Specialist response support, and safe and effective on-site activities.
Crisis Management Group (CMG) – managers who together form a crisis management group and are responsible for the strategic management of the crisis, decision-making, coordinating logistical and welfare assistance, and maintaining an interface with the different media organisations.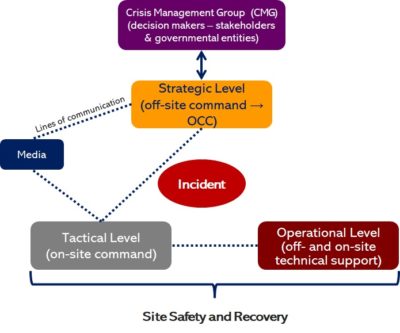 The operational concept
The operating concept (CONOP) of the railway/metro system incident management system specified in D3.5, includes core operating centres, peripheral control centres and on-site responders.
Core control centres, which are essential to effective incident management, including, for example:
Railway Incident Management Centre (RIMC) – responsible for managing incidents on railway infrastructure.
Operation Control Centre – responsible for traffic management in a specific geographic area/line, and for communicating with train drivers, infrastructure maintainers, the Lead Person, first responders and subcontractors.
Maintenance Control Centre/s – responsible for maintaining line infrastructures, passenger stations and terminals, line of route facilities and rolling stock.
Security Operation Centre – responsible for operating the railway system's security systems and managing its security operation.
Peripheral control centres for operating the incident management system; the train stations management control centre, Network Operation Centre (NOC), Cyber Security Operation Centre (CSOC), Customer Service Centre (CSC) and Crisis Room might be included among them.
On-site responders at the incident site, including end users of ICMT mobile devices, such as the Lead Person, mobile teams managing incidents on behalf of the IM/RU, maintenance teams acting on behalf of the IM/RU, first responders and various IM/RU contractors.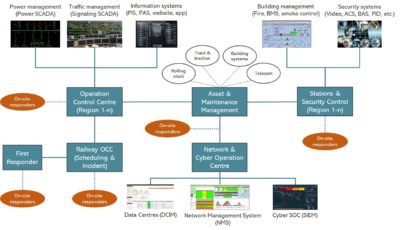 An overview on the Incident and Crisis Management Tool (ICMT)
Deliverable 3.5 describes the Incident and Crisis Management Tool (ICMT) – an information management system that supports control rooms, mobile devices Apps and Web applications throughout the incident management process – control of assets, incident management and debriefing. An example of the ICMT approach is shown with the Leonardo Company SC2 tool.
Integration, correlation and rule engine, which interfaces with the security, safety and operational systems, Geographic Information System (GIS) and relevant databases.
Business process management module, including the display of logged events, alerts, incident business process management, routine and ad-hoc tasks.
Visualisation and mapping engine, with an intuitive Graphical User Interface (GUI)/User Interface (UI), which can operate in a textual and graphical environment which is based on mapping and GIS tools.
Monitoring and debriefing the operator's actions and events in the system using the system's database, and by interfacing with other recording systems.
A training and exercise module, which enables training of operators, control room setup and large-scale exercises.
MTRS